Hear some examples of the EHX KEY9 on Star Cluster (organ sound), Strats and Vibes (vibraphone starting at 1:06), "Organized" Twangage (organ sound, of course), Morning Hugs (vibraphone) and Lama Glama (Tri-Glorius Chorus).
The Digitech TRIO+ is most useful as a creative tool to help come up with song ideas (lay down a guitar rhythm and then jam along with it to form lead guitar riffs, etc.).  But sometimes I use the drum track and / or bass track in a final recording.  You can hear some examples on The Colfax Claim (drums and bass) and Lama Glama (drums).  While searching for more examples on my YouTube page, I came across a lot of rough demo recordings using the TRIO and TRIO+ (yes, I traded in my TRIO when the TRIO+ came out):  Digitech TRIO Slow Jam, Another Digitech Trio jam, Artistic Monetary Goals For Earth Men (early demo), Pavlov's Canon, Beatlesque song idea, Curious Concurrence (demo), Rough Start (rough draft) and Need a Haircut (May 8 Looper Improv).  There are a lot more of these than I realized.  Just search for "Digitech TRIO" on my YouTube site for more examples.
Hear examples of the BeatBuddy on just about everything else I recorded that didn't use the TRIO or Adobe Loopology clips, such as Katydids and Firefles, or perhaps my YouTube playlist Songs Featuring the BeatBuddy is a better place to find examples.
Used quite a bit for when I need a flute or violin-type sound.  Best examples are on my YouTube EBow playlist.
My "go-to" bass recording interface.  Hear some examples on Mallet Meltdown, Waikiki Wintertide and Moore or Les (using the Zoom B3's drum machine for the drum track).
A useful tool for coming up with guitar riffs, but I've also used the Ditto Looper's output in some of my recordings, such as the demo version of Heartbleed (the rhythm track was from the Ditto).
The V-Wah can be heard on the last half of Marshal Bonzo (using the Mo Wah Morley setting) and Steampunk Rhapsody. It was also used on Lama Glama and Wah Sabi Blues (using the Crybaby setting).
My first and only bass.  If I played on the bass track, this was what I used.  Here is an example of a sort of bass duet I recorded when the RIC was still new:  All Your Bass R Belong To Us.
Used for any of the songs requiring a condenser mic, such as Four Fifty, and Shiprock, and the Strat lead tone on Mallet Meltdown.
Sometimes used for informal acoustic recordings like Extra Light and sometimes for remote nature sounds on songs like Spring is Near and November Nocturne.
If it has an electric guitar track on it, this was the amp I used for recording it.  It is a very versatile modeling amp.  I've recorded direct via its USB interface as well as miking the cabinet, as shown in the picture.  Here is an example of both techniques:  Tono Dorado – the rhythm track was recorded via the USB interface and the lead was recording using a mic on the cabinet.
I often use the DP-006 for demo recordings of song ideas, but sometimes the results are good enough to use in the final versions of songs, such as with The Colfax Claim, Snoozin' Susan and Midnight on the Mesa.  I usually import the files into Adobe Audition for final processing and mixing.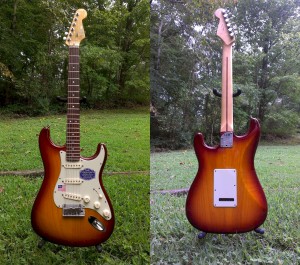 2011 Fender American Deluxe Stratocaster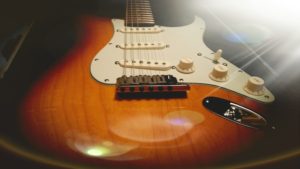 2011 Fender American Deluxe Stratocaster
Some of the best examples of this Strat can be found on my YouTube playlist, Righteous Strat Tones.
One of the best examples of the Martin DC Aura Custom is Midnight on the Mesa.
My Dad bought me this guitar (used) when I was a teenager.  It was my only acoustic for many years, but it eventually developed issues with some internal braces coming unglued.   It wound up in a closet for about a decade because the bowed neck made it very difficult to play anything above the first few frets.  I rescued it from the closet in 2016 and discovered it was still usable for basic chords.  You can hear examples of it on Burke County Blues and The Wandering City.  I don't know the exact year it was made.  Probably sometime in the early to mid seventies.
This guitar is heard all over my recordings.  Some examples are Bassman Bog, Burke County Blues (on slide) and American Outside Woman Impromptu.
Since I usually record bass directly via the Zoom B3's USB interface, the Rumble amp is mostly used for monitoring purposes these days. However, some of my earliest bass tracks were recorded by miking the cabinet, as was the case with Sunset in Silver City.