Category Archives:
Uncategorized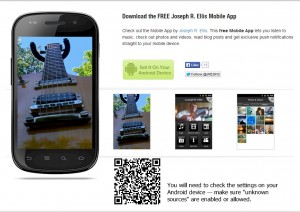 http://www.reverbnation.com/josephrellis/app
This is actually a pretty cool app.  When I upload new songs, pictures or post a new blog entry, it automatically gets updated on this app!  You can stream my entire catalog of songs at ReverbNation using this app!  Click the link above, or click the image and scan the QR code using your Android phone.
Note:  You will need to check the settings on your Android device — make sure "unknown sources" are enabled or allowed (I've downloaded this app for several artists – it is completely safe).